Here at 24hr Companions, we have some gorgeous girls available for romance in the City. Our lovely young ladies are very accommodating and have clean and comfortable apartments for you to visit. Furthermore, they are situated in areas that are easy to get to from tube stations. If you'd like to see one of our City escorts, all you need to do is call our friendly receptionists. We are always on hand and happy to help you find the right companion in the most accessible location. With our fantastic selection of model companions, you're spoilt for choice. Therefore, if you need assistance, ask. We offer a first-class and honest service, and all our girls are selected for their charm, good looks and friendly natures.
Our Most Romantic City Girls
Fernanda is a beautiful and highly sexy curvy escort, perfect for romance in the City. She has a passion for life and a love of all things naughty. So if it's a naughty nurse or a sultry secretary you're after, this is the girl for you. She's fun, friendly, always beautifully presented, and who could resist those gorgeous bedroom eyes! With a body built for fun and frolics and a whole lot of extra services thrown into the mix, Fernanda doesn't disappoint. She is a dream date for the naturally naughty, busty escort lovers.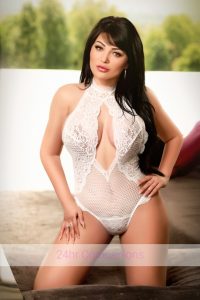 Elite escorts in the area
Gigi always delivers a first-class service that's second to none. Therefore, she is the ideal choice for making fantasies come true. She is fun-loving and friendly and perfect for our more open-minded clients. Gigi is also known for her passionate side and is an excellent choice for romance in the City. Get all the kisses and cuddles you wish for with this attentive brunette. Gigi is up there with the best and always comes highly recommended. A night spent in her company will be remembered for all the right reasons. As one of our most popular girls, she is always a pleasure to spend time with. Fun, polite, gorgeous, energetic, confident,t and always highly sexy. Check out her escort selfie and video and see how beautiful she is.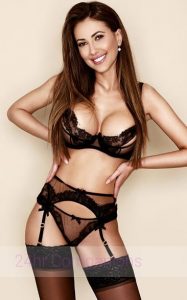 Kyra is a gorgeous young lady with an incredibly sexy figure and a wild imagination. She's perfect for romance in the City and doesn't disappoint. This fun and friendly escort with a gentle, kind and caring nature also has a flirty personality. Kyra is your perfect companion if you like a sweet-natured girl with a passionate side and a genuine sweetheart. This lovely escort is a delight to spend time with. She's polite, kind and gentle and is ideal for any man who needs some pampering and much-needed TLC. Kyra is as sexy as they come, passionate and caring, but fun!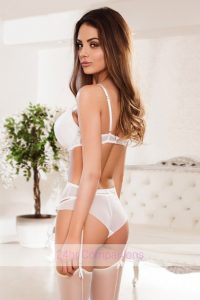 Why City Escorts Are Perfect For Businessmen
London City life is alive with different sights, sounds and delights, not to mention all the romance in the City. Many business workers flock here daily, so it's no surprise that we have dozens of beautiful City escorts. For example, if you're on a business trip, one of our gorgeous girls can meet you at your hotel to enhance your stay. However, if visiting someone is more accessible, you can check out our local incall ladies. The City has some of the most beautiful girls available to see, so you'd be mad not to want to meet up with one of them.
At 24hr Companions, getting a little romance in the City has never been easier. We have a long list of satisfied clients who have enjoyed our services time and time again. This superb service is just one of the reasons why so many choose to book escorts in the City through our agency. The other is our fantastic selection of gorgeous girls.
Please call our reception team to make an appointment with one of our City Escorts; we're open 24 hours a day and always have stunning girls available for both in-calls and outcalls throughout central London.